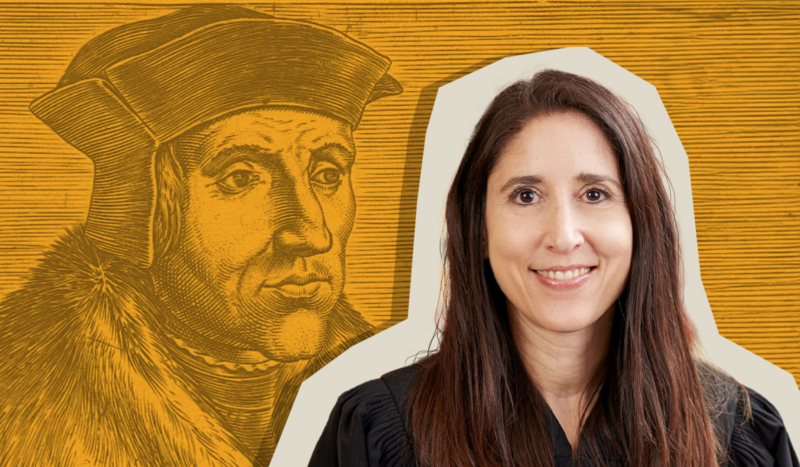 CV NEWS FEED // The Chief Justice of California's Supreme Court praised St. Thomas More last week at a "Red Mass" in Los Angeles. The Red Mass is celebrated for members of the legal profession as the judicial year commences.
Chief Justice Patricia Guerrero called More "a guiding figure for lawyers, judges, and public servants" in closing remarks at the Mass, which was held at the Cathedral of Our Lady of the Angels on October 25.
Concelebrating with a dozen priests, Archbishop José H. Gomez presided over the Mass, attended by more than two hundred people and sponsored by the St. Thomas More Society of Los Angeles. 
The Red Mass, a tradition begun by Pope Innocent IV in 1245, is celebrated for all members of the legal profession, including judges, lawmakers, and government officials. The color red is traditionally associated with the Holy Spirit and martyrdom. At the Red Mass, participants ask God to grant them the gifts of the Holy Spirit, such as wisdom and fortitude, in their work.
St. Thomas More, born in 1478, was a lawyer, personal advisor, and friend to English King Henry VIII. The King had More executed for refusing to acknowledge the king's authority over that of the Catholic Church. More is known as the patron saint of lawyers, civil servants, court clerks, and politicians, as well as difficult marriages.
"St. Thomas More reminds us that in a world that can often seem turbulent, we must not abandon our duty as guardians of the law," said Guerrero. 
"Sitting here, I was reminded of the many Masses I attended with my family, thinking in particular of my grandmother, someone of deep and abiding faith, who always saw the good in everyone," Guerrero said. "She, along with my mother and father, taught us the values of compassion and helping others."
California Governor Gavin Newsom appointed Guerrero, a Democrat, chief justice last year, making her the first Latina to serve as California's Chief Justice.  
"It is a difficult time when we are called to do all that's in our power in ways, big or small, to create a more just world," Guerrero continued. "We must continue to pursue justice and compassion, uphold the truth, and defend the rights of the most vulnerable."
Guerrero's words praising the Catholic saint came two days after California's attorney general, Rob Bonta, published an open letter in which he and 15 other state attorneys general criticized pro-life crisis pregnancy centers (CPCs). 
In September, Bonta also sued a pro-life organization, Heartbeat International, opposing the organization's support of CPCs and for offering abortion-pill reversal resources. 
In late August, Bonta filed a lawsuit against a school district implementing pro-parent school policy that would require schools to inform parents if their child "identifies" as a different gender at school, requests teachers to use "preferred pronouns," or requests to use a bathroom that does not match the child's biological sex. 
At the Red Mass, Guerrero concluded: "As was mentioned earlier, to us, much has been given, and much is expected, rightfully, of us. May God bless all of us with the wisdom and the compassion to discharge all of our respective duties."
Trouble came for St. Thomas More when Henry VIII sought an annulment from his wife, Catherine, which Pope Clement VII denied. In response, Henry VIII divorced her anyway, married Anne Boleyn, and declared himself the Supreme Head of the English Church.
Henry VIII ordered St. Thomas More to take an oath recognizing Henry VIII as the head of the English Church. More refused to take the oath, saying that the pope is the head of the Church. St. Thomas More was arrested for treason and died a martyr in 1535.