CV NEWS FEED // Vocation Ministry, an organization dedicated to supporting and increasing vocations, has published a first-of-its-kind report that details an accurate picture of what the priestly vocation crisis looks like and provides insights that will hopefully propel dioceses toward solutions.
The report seeks to "quantify a crisis," assigning each American diocese to a tier based on its Catholic population. The four-tier system allowed analysts to offer evidence-based conclusions about the scale and root causes of the nationwide priest shortage.
"Without priests, we do not have the Eucharist, and without the Eucharist, we do not have a Church," Rhonda Gruenewald, foundress of Vocation Ministry, told CatholicVote.
"We spent hundreds of hours researching what could be causing the severe lack of priests that most dioceses experience and how to remedy the problem," she said.
>> DOWNLOAD THE FREE REPORT HERE <<
Prior to the report's public release, Vocation Ministry sent a paper copy to every bishop in the United States. They also sent every Vocations Director a link to the website, where the 2023 report can be downloaded at no charge.
Major Points
Since 1970, the number of parishes in the United States has dropped from 18,000 to 16,579. At the same time, the number of Catholic priests has fallen even more precipitously from 59,000 to just 34,923.
Since 2014, however, the decline has accelerated. Between 2014 and 2021, there was a 9% decrease in the number of active diocesan priests. The total number of priestly ordinations declined by a stunning 24%.
Of particular concern to many bishops is the imminent mass attrition as "baby boomer" priests age and retire. "In the current state of many dioceses… a much higher rate of replacement will be necessary to secure sufficient priests to continue effective ministry," the report states. "In such cases, within the next 5-10 years each current priest may need to inspire a replacement of two, three, or even more priests."
>> DOWNLOAD THE FULL REPORT HERE <<
Population Measurement
The data point to population size as a key indicator of a given diocese's current vocations outlook.
Tier 4 dioceses – those serving the smallest numbers of Catholics – are the highest-performing in terms of ordinations. These smaller dioceses, such as Lincoln, NE, and Tulsa, OK, ordain six times as many men per capita as Tier 1 dioceses such as Chicago, IL, and Los Angeles, CA.
The larger Tier 1 dioceses have experienced the greatest statistical decrease in vocations, making them a primary concern, since the largest number of Catholics are in this group.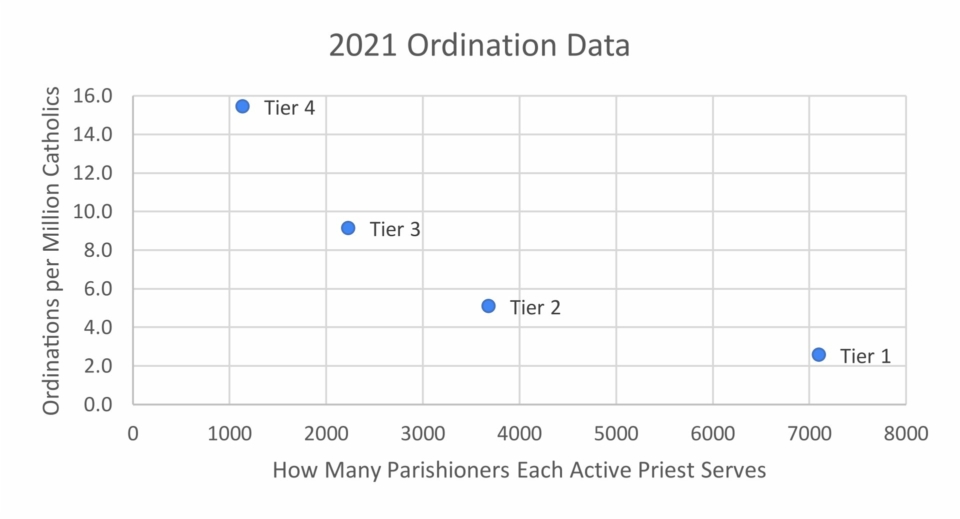 The Vicious Cycle of Consolidation
Many dioceses throughout the United States have responded to financial strain (including major payouts in sex abuse settlements) and the vocations shortage by consolidating parishes.
Consolidation is a favored strategy for decline management, and it almost certainly guarantees further decline.
"Where there are large numbers of parishioners served by each priest in a diocese, the ability for a priest to build trusted relationships with families and young men showing potential for the priesthood becomes almost impossible," according to the report. "Relationships are necessary for both evangelization and the cultivation of vocations."
The report adds: "As the number of total active priests dwindles, a direct negative impact on the cultivation of new priests is observed."
>> DOWNLOAD THE FREE REPORT HERE <<
The priest-to-parishioner ratio continues to decline, particularly in California and Texas where the influx of Hispanic immigrants tends to accelerate its effect.
"Interestingly, 14 of the 17 dioceses with the largest number of parishioners served by each priest are in California and Texas," the report notes. "The influx of Hispanic Catholics into these states over the past few decades might contribute to this. Hispanic Catholics make up more than 50 percent of Catholics in these two states. Nationwide, the official number of Catholics identifying as Hispanic is 39 percent, but the number of priests identifying as Hispanic is only 5 percent."
Other Factors
The report examines other key causes of the decline in vocations. Two events in recent years contributed to attrition among seminarians in formation.
The revelations of Cardinal Theodore McCarrick's involvement in sexual abuse scandals correlates directly to a sharp drop in the number of seminarians nationwide. "The number of seminarians fell from 3,749 in 2017 to 3,592 in 2018 and then 3,406 in 2019."
COVID-19 lockdowns also correlate to further declines in these numbers over the course of 2020 – 2022.
Where Priests Come From
Vocation Ministry also examined the testimonies of thousands of young priests throughout the United States regarding their own "successful" vocations. The report notes several patterns in their responses that should help drive vocation efforts in every diocese regardless of size.
Seventy-five percent of newly-ordained priests reported receiving the "call" before their 18th birthdays.
>> DOWNLOAD THE FREE REPORT HERE <<
When asked what first moved them to consider the priesthood, over 70% of priests indicate another priest first suggested it to them. In spite of these figures, only 30% of priests report actively inviting young men to consider a vocation.
These data points suggest there is a vast, untapped potential in Catholic dioceses that can identify eligible young men and encourage existing priests to reach out to them personally.
Hope for the Future
The report includes evidence-based recommendations for Offices of Vocations and bishops. Vocation Ministry has partnered with 50 dioceses and is seeing encouraging trends .
"Many dioceses are stuck thinking long-term recovery – maybe they hope to turn things around in the next 100 years," Gruenewald remarked. "But when a bishop invites Vocation Ministry in – we do a priest convocation and a workshop for laity – we've seen dioceses turn this trend around in three years."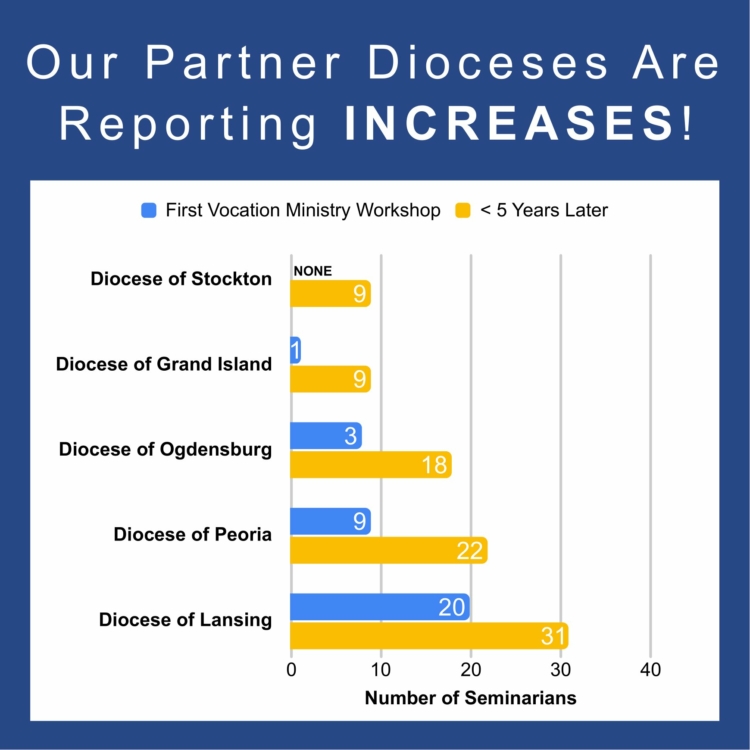 She encouraged Catholics to see the report as a starting point, not a death sentence. "We don't have to accept the decline," she stated. "But we can't fix what we haven't measured."
The report points to stories of success – robust offices of vocations, bishops who foster father-son relationships with their priests, and strong families who talk regularly about the priesthood.
"This is a time of great graces for the Church," Gruenewald said. "And this report is our gift to the Church we love."