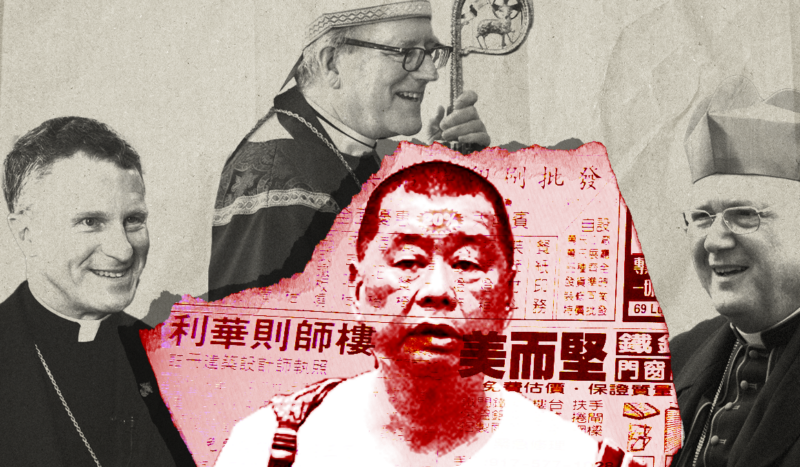 A group of Catholic bishops called for the release of prominent Hong Kong pro-democracy activist and Catholic Jimmy Lai, who has been imprisoned for the past three years.
"Mr. Lai's persecution for supporting pro-democracy causes through his newspaper and in other forums has gone on long enough," the bishops said in a joint statement last week. "There is no place for such cruelty and oppression in a territory that claims to uphold the rule of law and respect the right to freedom of expression."
Lai, age 75, was arrested in August 2020 for allegedly breaking the controversial National Security Law. The Chinese Communist Party accused and convicted Lai of sedition for speaking out against the Chinese government in his newspaper, the Apple Daily.
"We, the undersigned, bishops of the Catholic Church, call on the Government of the Hong Kong Special Administrative Region to immediately and unconditionally release Jimmy Lai," wrote the prelates.
Those who signed the letter included three American prelates: Cardinal Timothy Dolan, Archbishop of New York; Archbishop Timothy Broglio, president of the United States Catholic Bishops Conference; and Archbishop of the U.S. Military Services; and Bishop Robert Barron, Bishop of the Diocese of Winona-Rochester. 
Seven other bishops from Europe, Asia, and Australia also signed the letter.
The Wall Street Journal Editorial board praised the bishops for signing the petition in an op-ed published November 8. In the op-ed, the board called on CEOs and those in business to follow the lead of the Catholic bishops and issue an appeal to the Chinese government for Lai's release.
"We hope Mr. Lee sees (the letter), and that political and business leaders act on it by making freedom for Mr. Lai part of all negotiations with China," wrote the editorial board. "From landing rights at a U.S. airport or Chinese foreign investment or Chinese access to technology, if Beijing wants something from the West, it needs to know freedom is a condition. The same goes for other men and women unjustly sitting in Hong Kong prison cells."
In September, Lai marked his 1,000th day in prison. He has been convicted of assembly violations and a fraud charge, and he is still waiting to stand trial for other charges.
"In standing up for his beliefs and committing himself through his faith to challenge autocracy and repression, Jimmy Lai has lost his business, been cut off from his family, and has just surpassed 1,000 days in prison, while facing the prospect of many more years of incarceration to come," the bishops said.
Lai, who converted to Catholicism after marrying a Catholic, has received vocal support from leaders in the western world. The bishops' statement comes as the Vatican continues to navigate a contentious relationship with China over the appointment of bishops.
"He is 75 years old," the bishops said. "He must be freed now."