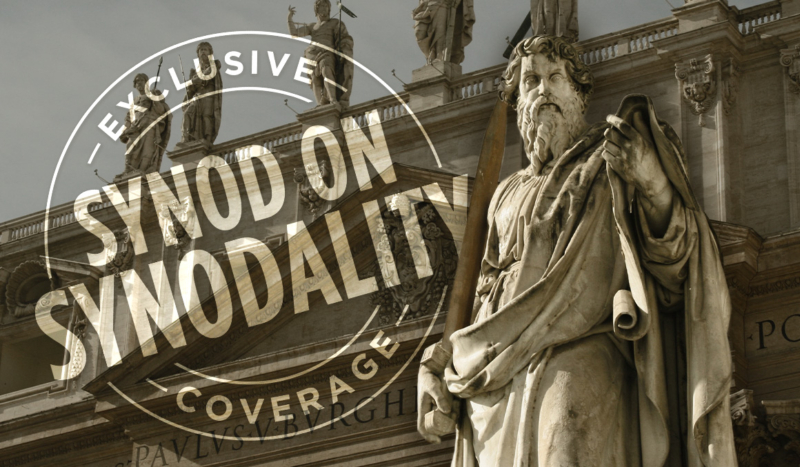 CV NEWS FEED // In a Tuesday pastoral letter, Bishop Joseph Strickland of the Diocese of Tyler, Texas, condemned blessings of same-sex unions just one day after the Vatican released a statement from Pope Francis that seemed to open the door to such blessings in certain circumstances.
Strickland released his four-page letter on sexual morality on the eve of the start of Francis' Synod on Synodality. 
"This letter is especially important in light of the statements we are seeing from Rome that speak of undermining 'Human Love in the Divine Plan,'" Strickland wrote:
Let us be clear: this truth cannot be changed. As Cardinal Ladaria said in March 2021, the Church cannot bless sin. Let us instead embrace the beauty of the plan God Our Father has laid out for us, if we will only listen.
On Monday, the Vatican released Francis' response to five Cardinals' Dubia, or questions, related to the Synod on Synodality. In his response, Francis commented on whether Catholic priests could bless same-sex couples.
"[Although] there are situations that from an objective point of view are not morally acceptable, pastoral charity itself requires us not to treat as 'sinners' other people whose guilt or responsibility may be attenuated by various factors that influence subjective imputability," Francis wrote.
He added that such blessings "in certain circumstances may form part of pastoral prudence," but should "not necessarily" become a norm.
Strickland began his letter by outlining the Church's teachings on sexual morality and the virtue of chastity. He frequently referenced both Scripture and the Catechism of the Catholic Church.
"Human sexuality is a beautiful gift from God and is woven into the being of each man and each woman. Every person is created in the image of God, and all people—both married and single—are called to chastity and to live out God's divine plan for their lives," wrote Strickland.
The letter emphasized the importance of remembering Church teachings on chastity and marital union during the Synod.
"As we approach the beginning of the Synod on Synodality," Strickland wrote,
it is important for us to remember and embrace the profound sacredness of the conjugal union between husband and wife and the truth that sexual activity outside of marriage is always gravely sinful and cannot be condoned, blessed, or deemed permissible by any authority inside the Church.
Strickland reminded the laity and clergy that
God calls us to stand firm and reject any path that deviates from His truth, so let us be on guard against anyone who would attempt to condone, bless, or encourage such activity, as this would be opposed to Christ, to His Church, and to the Sacred Deposit of Faith. We must remember that God's divine truth can never change, and neither God nor the Church can cooperate with or bless sin.
Strickland's latest pastoral letter comes after he has come under scrutiny by the Vatican in recent weeks.
On September 11, The Pillar reported that Francis held a meeting with Cardinal Robert Prevost, head of the Dicastery for Bishops, and Cardinal-elect Archbishop Christophe Pierre, apostolic nuncio to the United States, to discuss requesting Strickland's resignation.
Strickland later suggested he would not resign if the Vatican "requested" him to step down, but would obey if he were removed.
"I have said publicly that I cannot resign as Bishop of Tyler because that would be me abandoning the flock that I was given charge of by Pope Benedict XVI," said Strickland. "I have also said that I will respect the authority of Pope Francis if he removes me from office as Bishop of Tyler."
In June, the Vatican sent two bishops on an apostolic visitation to the Diocese of Tyler. The bishops talked to parishioners and diocesan officials about Strickland's leadership and his handling of diocesean resources.
Over the past five months, Strickland has drawn attention for his outspokenness on social media. In May, he criticized Francis on X (formerly known as Twitter), writing that he "rejects" what he called the current pontificate's "program for undermining the Deposit of Faith."