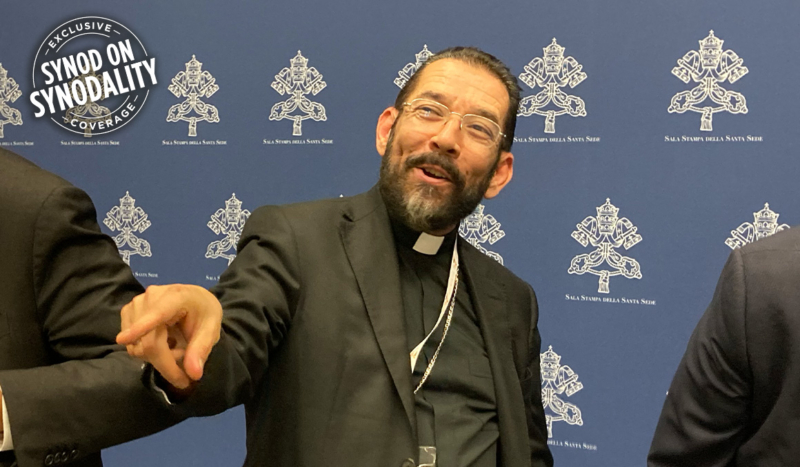 CV NEWS FEED // During Thursday's synod press conference, bishops from Texas, Lebanon, and South Africa shared the particular challenges immigration poses to each of their countries. 
Bishop Daniel Ernest Flores, from a large diocese next to the U.S.-Mexican border in Texas, said that his diocese is poor and overwhelmed by immigrants. Flores stressed that the people in his diocese are extremely generous despite their poverty, however. This generosity reflects an interior disposition of the heart that is necessary for any ministry in the Church, he said.
"The exercise of any structure or ministry or authority of the Church must be based on a fundamental conversion of heart," he said, referring to episcopal ministry, refugee mission work, and daily service to one another. This interior disposition "is essential for any structure to be truly obtaining the good which we hope it will obtain."
He continued: "What I'm worried about is how we might inaugurate a deep thirst to become a people—baptized and ordained—who are focused on serving one another in the heart of Christ. To me this is everything. Sin esto no es nada—without this there is nothing."
Bishop Khalil Alwan from Lebanon said that his country hosts over 5 million Syrian immigrants, which is the highest number of refugees in the world. According to Alwan, the conditions in refugee camps are inhumane, and the Church's ministry is struggling to adequately care for the massive numbers of immigrants.
"We cannot give these people a dignified existence," he said. "We try to give food, clothes, but for political reasons these people cannot return to their country."
Bishop Anton Dabula Mpako said that his country of South Africa hosts over 2.9 million refugees—the largest number of immigrants on the African continent. Mpako said that most of the migrants come because of economic problems..
He noted that Catholic missionaries in South Africa struggle to minister to all the immigrants.
"Some of the migrants are Catholics who want to continue practicing their Catholic faith and very often they've found themselves left to fend for themselves," he said. "So we're trying to see how we can give pastoral care to them in a way that accommodates their situation."
According to Mpako, examples of appropriate pastoral care include prayers and Masses in refugees' native languages and requesting missionaries to come from the refugees' native countries as well.
"It is a great challenge but we are doing our best as the local Church," he said.