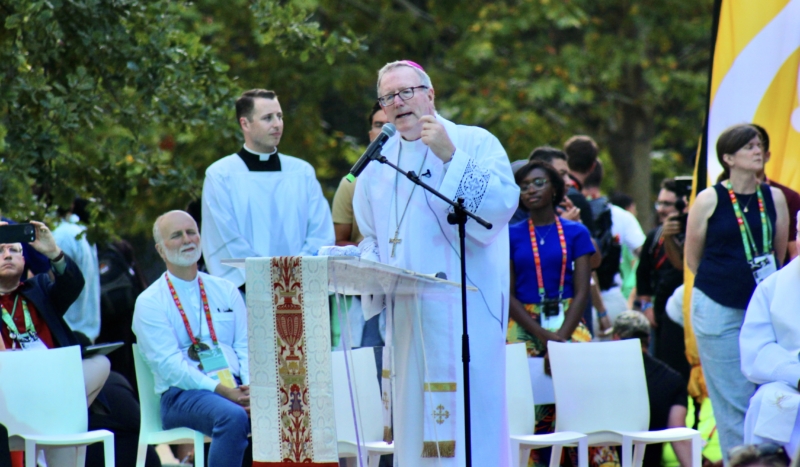 Prior to his departure for Rome for the upcoming Synod on Synodality, Bishop Robert Barron issued a pastoral letter addressing the structure and function of the synod, as well as his concerns about it.
Barron, the bishop of the Diocese of Winona-Rochester in Minnesota and founder of the Word on Fire Institute, published his letter in the diocesan newspaper the Courier, writing the letter as an explanation for his monthslong absence from the diocese.
Last November, members of the USCCB selected Barron and four other U.S. bishops to represent the USCCB at the upcoming synod. The synod is a multi-year process culminating in a two-part, month-long gathering of bishops and lay leaders in Rome to discuss relevant issues facing the Church.
"I would like to begin with an apology, for I am going to be absent from our diocese for the next roughly five weeks," wrote Barron. "I'm certainly excited about participating in a high-level discussion regarding some important matters in the life of the church. But I don't like the prospect of being away from the diocese for such a long stretch of time."
The letter answered many common questions about what exactly the synod is and what it will take place there. Barron said that he sees the synod as an opportunity for members of the Church to learn how to walk together to effectively evangelize the gospel.
"The Synod on Synodality will be about involving the entire church, the whole people of God, in the fulfillment of Christ's commission to announce the gospel to all nations. It will be about all of us—clergy and laity—walking together (syn-hodos, "on the way with" in Greek) under the guidance of the Holy Spirit," wrote Barron.
Barron did not avoid addressing the many concerns that have arisen regarding the synod. He expressed his own worry that the synod would address these very real issues of people feeling alienated from the Church because of its moral failings. He worries that instead of addressing the issues head-on and in light of Church teaching, the synod will attempt to address this alienation through applying participants' personal feelings.
"Some have been suggesting that the synod ought to consider a change in the Church's moral teaching and sacramental discipline in order to make alienated Catholics feel more included," wrote Barron. "And here I hesitate, precisely because feelings, however intense, do not in themselves constitute a theological argument.
"My very real hope is that the engagement of both the pastoral and properly theological dimensions of this issue of inclusivity will be a key work of the synod," wrote Barron.