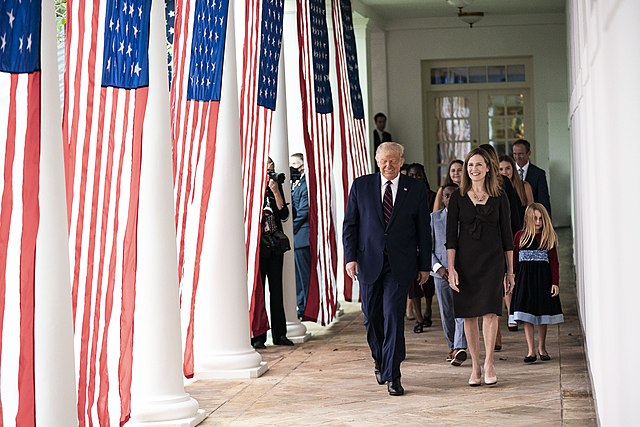 CV NEWS FEED // In a public address over the weekend, Justice Amy Coney Barrett defended the impartiality and independence of the US Supreme Court against recent court-packing calls from the progressive left.
"My goal today is to convince you that this court is not comprised of a bunch of partisan hacks," Barrett told a gathering at the University of Louisville on Saturday, according to the Louisville Courier-Journal. "Judicial philosophies are not the same as political parties."
On Saturday, Sen. Mitch McConnell, R-KY, introduced Barrett at a 30th anniversary celebration of his namesake McConnell Center at the Seelbach Hilton Hotel.
Alluding to Barrett's originalist judicial philosophy, McConnell described her to the crowd as a "Middle America" voice who doesn't try to "legislate from the bench."
During the event, Barrett said it would be inappropriate of her to comment on prepared questions from university students about the Supreme Court's recent 5-4 decision upholding the Texas "heartbeat law" ban on abortions after six weeks, due to the fact that such an emergency decision does not resolve the case entirely.
That ruling has sparked renewed calls from progressives for President Joe Biden to pack the nation's highest court by adding liberal justices to the traditionally nine-member bench.
On Saturday, Barrett vigorously denied the accusation that their ruling indicates partisanship on the court, providing a wealth of examples of justices not voting along party lines.
"The media, along with hot takes on Twitter, report the results and decisions. … That makes the decision seem results-oriented. It leaves the reader to judge whether the court was right or wrong, based on whether she liked the results of the decision," Barrett said. "And here's the thing: Sometimes, I don't like the results of my decisions. But it's not my job to decide cases based on the outcome I want."
Barrett, a Roman Catholic and Notre Dame law professor whom President Trump nominated in 2020, joined fellow Trump appointees Brett Kavanaugh and Neil Gorsuch in voting to uphold the Texas abortion ban.
The idea of expanding the court's bench first came up after Barrett's nomination to replace Ruth Bader Ginsburg, whose death in the last months of the 2020 election gave the court an apparent 6-3 conservative majority, sparking fears on the left that it would overturn Roe v. Wade.
Incoming President Joe Biden established a commission to look into the idea of expanding the court, but also indicated his opposition to the idea.
Last week, 83-year old Clinton appointee Stephen Breyer said he also opposes court-packing, admonishing progressives that "what goes around comes around."
Justice Breyer said he has no plans to die in office, but also rebuked liberal calls for him to resign before another Republican president has a chance to replace him in 2024 and expand the court's apparent conservative majority even further.
President Trump with then-nominee Amy Coney Barrett, Sept. 26, 2020 (Public Domain File Photo, The White House/Shealah Craighead)