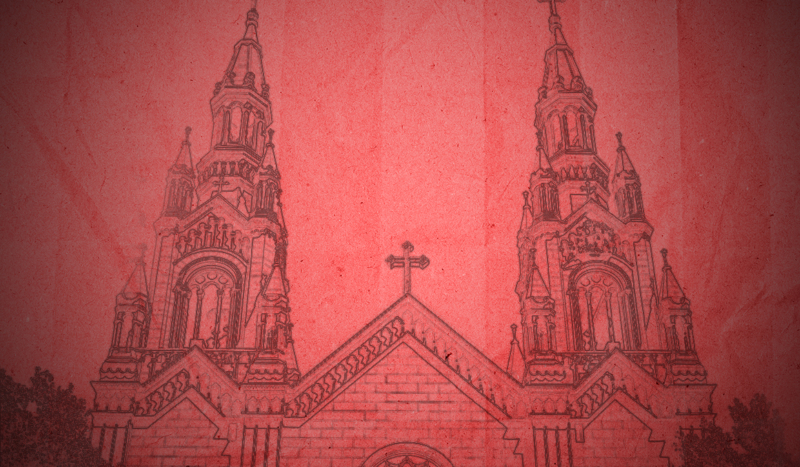 CV NEWS FEED // San Francisco police apprehended a suspect for throwing explosives out his car window after he assaulted a man who tried to stop him from stealing a consecrated host from a Catholic church last weekend.
The suspect, identified as Daniel Garcia, 42, allegedly assaulted someone at Sts. Peter and Paul Church on Sunday, October 29, during the evening mass. Police pursued Garcia after he fled the scene in a vehicle.
"It was a person that went up to receive Communion at the 5 p.m. Mass and then didn't consume the consecrated Host. He left without consuming," Peter Marlow, a spokesman for the San Francisco archdiocese, told Catholic News Agency (CNA). 
Marlow continued, "There was a visiting person [also in attendance] who stood up and confronted the person and told him, 'You can't leave the church without consuming the Host.' And the guy went off and punched him and ran out of the church."
Paramedics treated the man who Garcia punched, who was not in serious condition, Marlow added. It remains unclear as to what happened to the Eucharistic host.
During the pursuit, Garcia went through a residential area where he "set off a pipe bomb" and then threw a "Molotov cocktail" in the direction of the police cars, San Francisco City Supervisor Aaron Peskin told the San Francisco Standard. No bystanders or officers were seriously injured from the explosions.
California Highway Patrol pursued the suspect when he fled onto a freeway. The SFPD reported that the suspect was ultimately arrested in another county.
Garcia, after he was arrested Sunday evening, allegedly asked a police officer how many points he had scored in his Grand Theft Auto game, Peskin reported. Grand Theft Auto is an online video game involving police chases and crime.
"In 23 years of doing this stuff, this is probably the most bizarre [case]," said Peskin to the San Francisco Standard.
On Monday morning, October 30, after police had arrested Garcia, police officers allegedly surrounded his home in Concord, CA, the San Francisco Standard reported. A reporter at the scene witnessed a bomb disposal robot entering the property.
Garcia has a history of violent crime. He was indicted for allegedly bombing a car belonging to his former roommates in an apartment complex parking lot in 2011.
After he was released from custody, one of his former roommates told police that Garcia threatened again to blow up her car.
The local police department, FBI, ATF, and Yolo County Bomb Squad searched Garcia's home after the victims filed complaints about the threat. Though Garcia was not home at the time of the search, the police reported that they found a "live improvised explosive device" inside Garcia's garage. When Garcia returned home, an eight-hour standoff with the SWAT team occurred before police finally arrested him that evening.
In 2012, Garcia received a 35-year prison sentence after a conviction for "malicious use of explosives, possession of a destructive device in relation to a crime of violence, and two counts of possession of unregistered destructive devices."
He was released early, in 2019, after successfully challenging one of the charges.
This article has been updated for clarity.