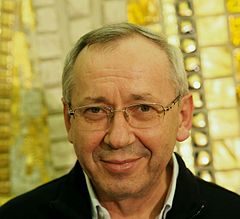 The Archdiocese of Southwark in England announced that it would ban all artwork created by Fr. Marco Rupnik, the disgraced Jesuit priest and artist at the center of an expansive sexual abuse scandal.
The Archdiocese of Southwark announced last week that it would review all artwork on archdiocesean property and any artwork attributed to Rupnik or other convicted abusers would be removed from archdiocesean property and websites. In the official announcement, the archdiocese said that it was banning all artwork made by artists convicted of rape and sexual crimes.
A spokesperson for the Archdiocese of Southwark said:
"Abuse in all its forms is abhorrent and is an affront to God. We are committed to ending abuse and have transformed our safeguarding procedures, so the experiences of those harmed by abuse are always heard.
As part of this work, we will review the artwork on display on any Archdiocese property to ensure it is appropriate and puts the dignity, care, and love of all first."
Catholic entities to remove Rupnik's artwork. Rupnik's artwork is still prominently displayed on the official page for the Synod on Synodality, which begins this week in Rome.
Even amidst the mounting scandals, Pope Francis has not taken any formal canonical actions against Rupnik.
Last December, Italian news outlets reported that Rupnik had sexually abused multiple religious sisters and gave absolution to a woman with whom he had had sexual intercourse.
This past June, the Jesuits expelled Rupnik from the diocese, but he has not yet been laicized and remains incardinated in the Diocese of Rome.
Rupnik made a name for himself through his modern Catholic artwork, which is featured in many high-profile places, including the Vatican and on the official Vatican website.
On X, formerly Twitter, the Southwark archdiocese's decision received praise. Antonia Sobocki, director of LoudFence UK, an advocacy group for victims of sexual abuse, applauded the decision to ban Rupnik's artwork.
"My sincerest thanks to Archbishop John Wilson and the Archdiocese for choosing to prioritize the safety and dignity of all people," said Sobocki.
The Archdiocese of Southwark could not be reached for comment.