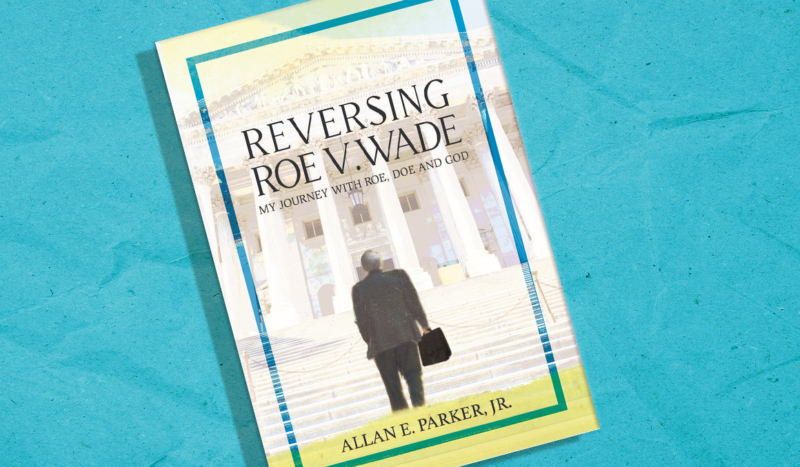 CV NEWS FEED // Allan Parker, president of the Justice Foundation, just released his new book detailing the unlikely path leading up to the historic moment that Roe v. Wade was overturned.
Parker and the Justice Foundation represented the cases of Norma McCorvey, also known as "Roe" of Roe v. Wade, and Sandra Cano, "Doe" of Doe v. Bolton, in their legal efforts to reverse their own cases in the early 2000's.
Parker spoke with CatholicVote about the intense prayer, complex legal efforts, and "hidden moments" of God fulfilling a promise to overturn Roe v. Wade described in his new book, "Reversing Roe v. Wade: My Journey with Roe, Doe and God."
The Justice Foundation is a nonprofit charitable organization that provides free legal services to its clients.
Doe v. Bolton was decided on the same day as Roe v. Wade, January 22, 1973. Doe v. Bolton ruled that a woman could get an abortion even after viability if the health of the mother, whether physical, psychological, or emotional, was determined to be "at risk."
"From the moment that I felt called to represent Norma and Sandra and take the two cases that brought abortion on demand to America back to the Supreme Court, I knew it could only be by God's grace and miraculous power and strategy that reversing Roe could be done," Parker told CatholicVote.
Parker said that a smart lawyer would not be enough to overturn Roe, but it would require instead "obedience, and millions of prayers, and God's action in the fullness of time."
Parker said that working with McCorvey and Cano was one of the greatest honors of his life. McCorvey, born in 1947, passed away in 2017. Cano, born in 1947, passed away in 2014.
"These two stories need to be heard by every pro-life activist and educator in America," he told CatholicVote.
Parker described meeting with Cano in February 2000, when she told him she had not even wanted an abortion and had never received one. Hers was "an incredible story of fraud and deception… She fled to Oklahoma during the pendency of her case, and the documents in the case are misrepresentations."
"Her story is far less known than Norma's," Parker continued, "but in many ways is more devastating and more dangerous because her case, Doe v. Bolton, created the health exception which allows abortion on demand if a woman feels that psychologically she would not want a child and it would be unpleasant or difficult for her."
Like Cano, McCorvey also did not have an abortion.
"Norma wanted an abortion but never had one, because it only takes nine months for a baby to be born and it took three years to get her case to the Supreme Court to wrongly declare Texas' criminal abortion law unconstitutional," Parker explained.
Parker said that McCorvey's U.S. Supreme Court testimony, included in the book, "tells her story of actually working in the clinics and coming to the conclusion that this was wrong."
"Her story is incredible. She was a courageous witness against abortion and fought it all over the world, from 1995 until the illness that caused her death cut that short," he said.
He explained that both McCorvey and Cano "were devastated and ashamed of their part in the cases and both felt abused and hurt by what was supposed to be a 'justice' system."
"Every year around the anniversary of Roe, Norma especially would feel great sadness, grief, sorrow and depression over another million children who were killed in her name," he said. "We were concerned for her emotionally and prayed especially hard for her at those times."
On the night Cano told Parker her story, Parker said that "the Lord directed me to Isaiah 28:14-22, after I had been praying for about 30 days about whether the Lord wanted us to represent Norma and Sandra and try to reverse Roe and Doe. I had spent about 30 days telling God nobody could break through the stronghold of abortion."
He recollected:
The Lord in that scripture gave us a promise that the "covenant with death would be annulled, the agreement with the grave will not stand;" and that the Lord would do amazing, extraordinary, and unusual things to accomplish a "breakthrough," just as he had for King David, at a place that David called Baal-Perazim, which means "The Lord, The Master of Breakthroughs." When I heard that one of the names of God was "The Master of Breakthroughs," when I had been telling him that no one could break through the stronghold of abortion, I knew that I had to trust Him, and He would do what He promised.
That promise sustained me for 22 years, with amazing ups and downs, and miracles and setbacks along the way. The book tells the story of the amazing things that God did to fulfill His promise. Some were quite public, others were hidden.
"The Dobbs case was considered by the Supreme Court 22 times before the Court even decided to take the case. This is highly unusual," Parker said, when asked about a "hidden" promise God fulfilled. "The Court receives about 7-8,000 appeals a year, and only takes about 70-80 or so. So you only have a one percent chance of being taken. Ninety-nine percent are rejected without even hearing the other side."
While working with Cano and McCorvey, the Justice Foundation also gathered almost 5,000 legal testimonies of women who were hurt by their abortions.
"This is powerful evidence to the courts, and was given to the Court in the Dobbs decision," said Parker. "Our goal is also to collect another 5,000 testimonies, especially of women who have had abortion pills, since they are even more devastating than surgical abortions."
All proceeds from the book go to the Justice Foundation's mission to make abortion illegal and unthinkable in all fifty states.
You can purchase the book here.
This interview has been edited for clarity.