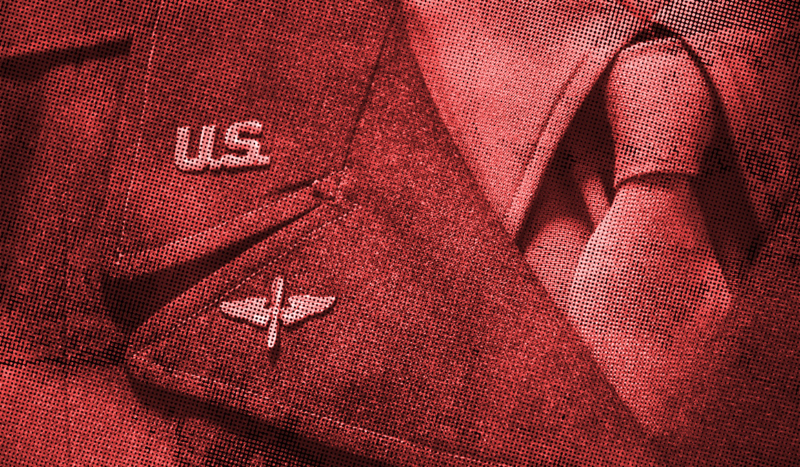 U.S. Air Force reservist Jace Yarbrough filed a lawsuit after receiving a "Letter of Admonishment" (LOA) from the Air Force because remarks he made at a retirement ceremony were called "disrespectful" and "unbecoming." 
After two years of working to appeal the LOA, his request was ultimately rejected. This October, Yarbrough filed a lawsuit against the Air Force and Space Force.
"Service members do not forfeit their basic rights and freedoms as American citizens simply because they join the military," the introduction of the lawsuit reads. 
Yarbrough was invited to speak at the event by a retiring servicemember, Sergeant Duane Fish, who shares his Christian faith. In his speech, Yarbrough praised his friend's courage and related it to the Christian obligation to speak the truth, even when it is difficult. 
The remarks that were determined inflammatory and "disrespectful" came from a place of sincere religious conviction, the lawsuit explains:
Yarbrough expressed his personal concerns about the negative impact of politicization within the military, and how it tends to squelch the courage, integrity, and competence that SMSgt Fish exemplified. He worried that 'radical' factions in 'our wider culture' have 'brought the culture war inside the DoD,' and that politicization of the military would be 'a death knell for courage and competence.' 
He also expressed concern about cancel culture within the military, and the pressure that the military puts on servicemembers "to deceive themselves about objective realities they know to be true."
He gave two examples of objective realities: "men can't birth babies," and "boys should not be allowed in girls' locker rooms."
A week after the retirement ceremony, Yarbrough received a LOA, after a servicemember present at the ceremony filed a complaint about Yarbrough's remarks.
The LOA condemned specific remarks, including his references to "radical political factions," "how the military is fostering a culture of 'incompetence and cowardice," and "DoD-wide extremism training as a 'thinly veiled flex of political power'."
Yarbrough received an email shortly afterward from a Lieutenant Colonel that had excerpts from remarks from unidentified individuals present at the speech.
The excerpts read,
"members were offended by the guest speakers comments"; "he definitely shared some personal viewpoints that should not have been shared in the retirement ceremony"; "informed that there were some inappropriate comments made by the guest speaker at the subject event targeted at the LGBT community and other political issues currently taking place in our country"; "at this event feeling extremely uncomfortable and insulted"; "let you know that such comments are unnecessary and have no place in a ceremony like this"; and "his comments were hurtful to a group of people."
The lawsuit explains, "The LOA reprimanded Mr. Yarbrough for his retirement ceremony remarks, made while in civilian status, and stated that Mr. Yarbrough's speech had been 'insubordinate, disrespectful, and unbecoming for an officer in the military.'
Danielle Runyan, senior counsel from First Liberty Institute, said in a statement, "We've entered dangerous territory if the Air Force thinks it can punish Jace for his private religious exercise and private speech while acting as a private citizen in a private venue… In his purely civilian capacity, Jace had permission to speak freely and exercise his U.S. constitutional and federally protected rights as an American citizen. The Air Force's punishment of Jace is a perfect example of the very cancel culture he warned about in his speech."
The lawsuit states, "[Yarbrough's] expression of these views was an expression of his religious exercise as a devout Christian who believes that speaking truth is an essential element of living out his faith and was also an expression of his private speech on matters of public concern."