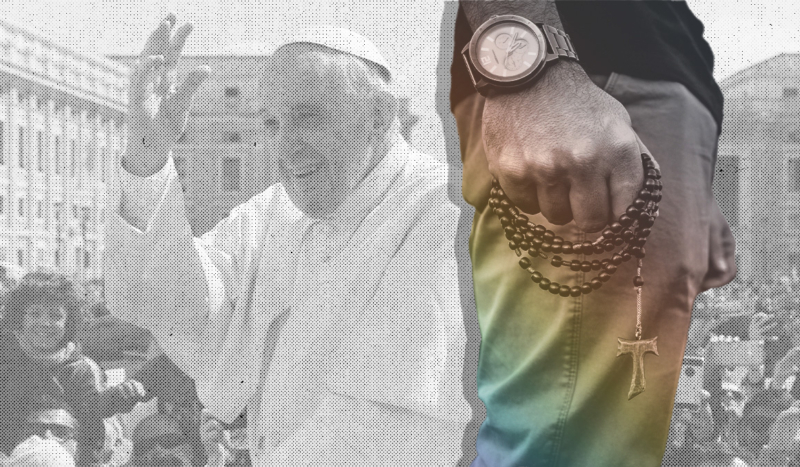 CV NEWS FEED // A Catholic man who struggles with same-sex attraction says he doesn't "feel seen" by Pope Francis in an article published this week in the journal First Things.
In his article, entitled "As a Gay Catholic, I don't feel seen by Pope Francis," Sebastian Alvarez said he is trying to live a holy life amidst significant confusion within the Church about how to truly accompany same-sex attracted people.
"Though I try to avoid falling into sin, it doesn't mean I don't struggle. I also need accompaniment—and not in the form of dismissing my attempts to live chastely and telling me to give it up and find a boyfriend already," he wrote.
He explained that while "Pope Francis has done more than any other pope to reach out to LGBTQ individuals… I must admit to having mixed feelings about the way Pope Francis addresses homosexuality."
He wrote:
I've met too many people who take his exhortation to 'accompaniment' to mean they should reject Church teachings on chastity and encourage same-sex-attracted people like myself to pursue same-sex partnerships. For Catholics like me, who are earnestly attempting to live a chaste life conformed to Christ's will, said forms of 'accompaniment' don't actually help to deepen my spiritual life.
Alvarez explained that "Pope Francis's alleged ambiguity toward LGBTQ issues is in part the fault of the mainstream media, which often takes his statements out of context or twists them to mean something other than what he intended."
He said that reading an entire speech or encyclical makes it clear that while Pope Francis "encourages more acceptance of gay-identifying people in the Church (even ones in irregular relationships), he also emphasizes that God designed sex for the sake of both unity and procreation."
However, despite the pope's clarity in speeches and encyclicals, Alvarez said the pope's overt support of Catholics who work against the Church's teachings on sexuality is worrisome:
I must say I find it concerning that he offers public encouragement to Fr. James Martin and ministries that promote 'acceptance' like New Ways (which has openly defied Church teaching), but not to ministries that offer support in the pursuit of chastity like Eden Invitation, the Courage Apostolate, or the Spiritual Friendship movement… His lack of public engagement with gay people who are attempting to live according to the Church's teachings makes me feel a bit forgotten and alone.
Alvarez concluded his article expressing hope that "Pope Francis will start to make a sincere effort to encourage and accompany those of us who are trying—and sometimes failing, but trying nonetheless—to live according to the teachings of the Church."