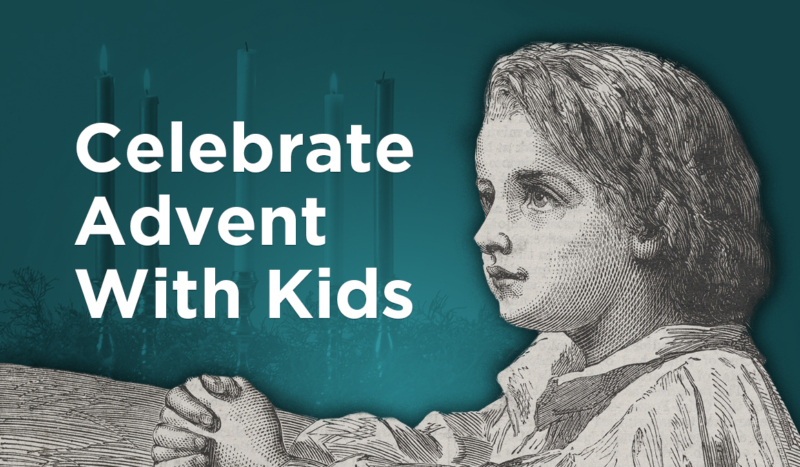 Advent is upon us! Similar to Lent, Advent is a liturgical season that the Church gives us to prepare our hearts for the coming of the feast- in this case, the birth of the Messiah at Christmas. The Catechism tells us that:
When the Church celebrates the liturgy of Advent each year, she makes present this ancient expectancy of the Messiah, for by sharing in the long preparation for the Savior's first coming, the faithful renew their ardent desire for his second coming. By celebrating the precursor's birth and martyrdom, the Church unites herself to his desire: "He must increase, but I must decrease. (no. 524)
The anticipation of Christmas is made all the sweeter by an intentional time of preparation and purification leading up to Christmas. When so much of the country is busy preparing only for the externals, here are a few ideas of how your family can savor the Advent season and prepare your heart and home for the coming of the Christ-child!
---
Let the light shine in the darkness!
Days are getting shorter and shorter this time of year. Lean into this seasonal change as a spiritual reminder to your family. The simple beauty of fire is enchanting to children and adults alike and illustrates the repeated theme of our faith that Christ is the "light of the world". Why not incorporate more candlelight into your family's prayer routine this Advent? Whether that be lighting the traditional Advent wreath during your family prayer or even challenging yourself to eliminate most electric light after sunset. Try eating your dinner by candlelight or gathering your family around a cozy fire in the evenings. Reflect as a family on darkness; How do you feel when you are in a totally dark room? What happens once you light a candle? What does it mean that Christ has come as a light to a dark world?/
Bible verses to reflect on the themes of light and darkness:
Isaiah 9:2-6 "…The people walking in darkness have seen a great light; on those living in the land of deep darkness a light has dawned…"
John 1:1-8 "…The light shines in the darkness, and the darkness has not overcome it."
Luke 1:67-80 "…to shine on those living in darkness and in the shadow of death, to guide our feet into the path of peace…"
John 8:12-20 "…Again Jesus spoke to them, saying 'I am the light of the world; he who follows me will not walk in darkness, but will have the light of life.'…"
Prepare the manger (and your heart) for baby Jesus
Although Advent does not typically have the same penitential spirit as Lent, it is still fitting for it to be a time of resolutions and spiritual growth. Consider leaving the manger in your nativity set empty and allow family members to add pieces of straw to the manger for every good deed or kind action performed. On Christmas, when baby Jesus is lovingly placed in his manger it will be filled with soft straw for his bed and your family will see a tangible example of their growth and virtue from throughout the Advent season. Older children and adults can be encouraged to attend confession during Advent. Many parishes even hold Advent prayer and confession services.
Find "Mary on the Mantle"
In lieu of the secular Elf on the Shelf tradition, try a different approach this year with "Mary on the Mantle" (Be a Heart Shop). Each day Mary prepares for the long awaited arrival of Baby Jesus. Young children can walk with Mary in the season of anticipation and help with practical chores to make your home beautiful for Christmas. They will find Mary around the house, preparing for her new baby: folding laundry, putting away toys, polishing silver, baking holiday cookies. Let Mary remind your family that all of your household actions can be a prayer and every practical preparation for Christmas can also be a spiritual preparation to welcome Christ in a new way. For older children and adults, try setting up a "kitchen rosary" where the beads are on a board similar to an abacus so that they can easily follow along with prayers while their hands are occupied with household chores.
Embrace the Hymns of Advent
Tired of the early Christmas music all over the radio? Try an Advent playlist! Challenge your family to save all holiday jingles until Christmas arrives and lean into the unique music of the Advent season. Traditional Advent hymns have a mysterious quality that is unique to the season. Set the tone for a time of prayerful anticipation with hauntingly beautiful hymns that have been sung and prayed by the faithful for years. Many children are fascinated by the distinctly different sound that Advent hymns present and are excited for the opportunity to sing songs that vary from the typical upbeat track of most children's music. Even more contemporary Advent songs can help you engage with the scriptures of Advent and the spiritual themes of waiting, watching, and anticipation. Expand your repertoire beyond the beloved "O Come, O Come, Emmanuel" with these playlists and albums:
Do an Advent Declutter Challenge
While we try to make room in our hearts for Christ during Advent, who not consider making more physical room in your home by donating unused items to those in need? Simplify your organizational systems to make more mental bandwidth for prayer and relationships. Include the whole family! Children can be surprisingly generous when asked if there is a toy or book that they are done with and ready to give away to another child in need. New gifts can be given to Angel Tree programs and shoeboxes can be packed for Operation Christmas Child or similar charities.
Besides the immediate benefit of sharing our excess with those in need, an Advent declutter can help to make space for the coming gifts of the Christmas season. You might even find some treasures to regift that check off a few gifts on your list! Clearing out the hidden areas of your home can help you find renewed gratitude for what you already own and a refreshed appreciation for God's many blessings in your life. 
---
However your family chooses to celebrate Advent, let it be a time of renewed dedication to your family and your faith! We anticipate the coming of the Christ child at Christmas by also calling to mind our anticipation for his second coming at the end of time. 
This Advent, may your heart and home be filled with hope, peace, joy, and love!